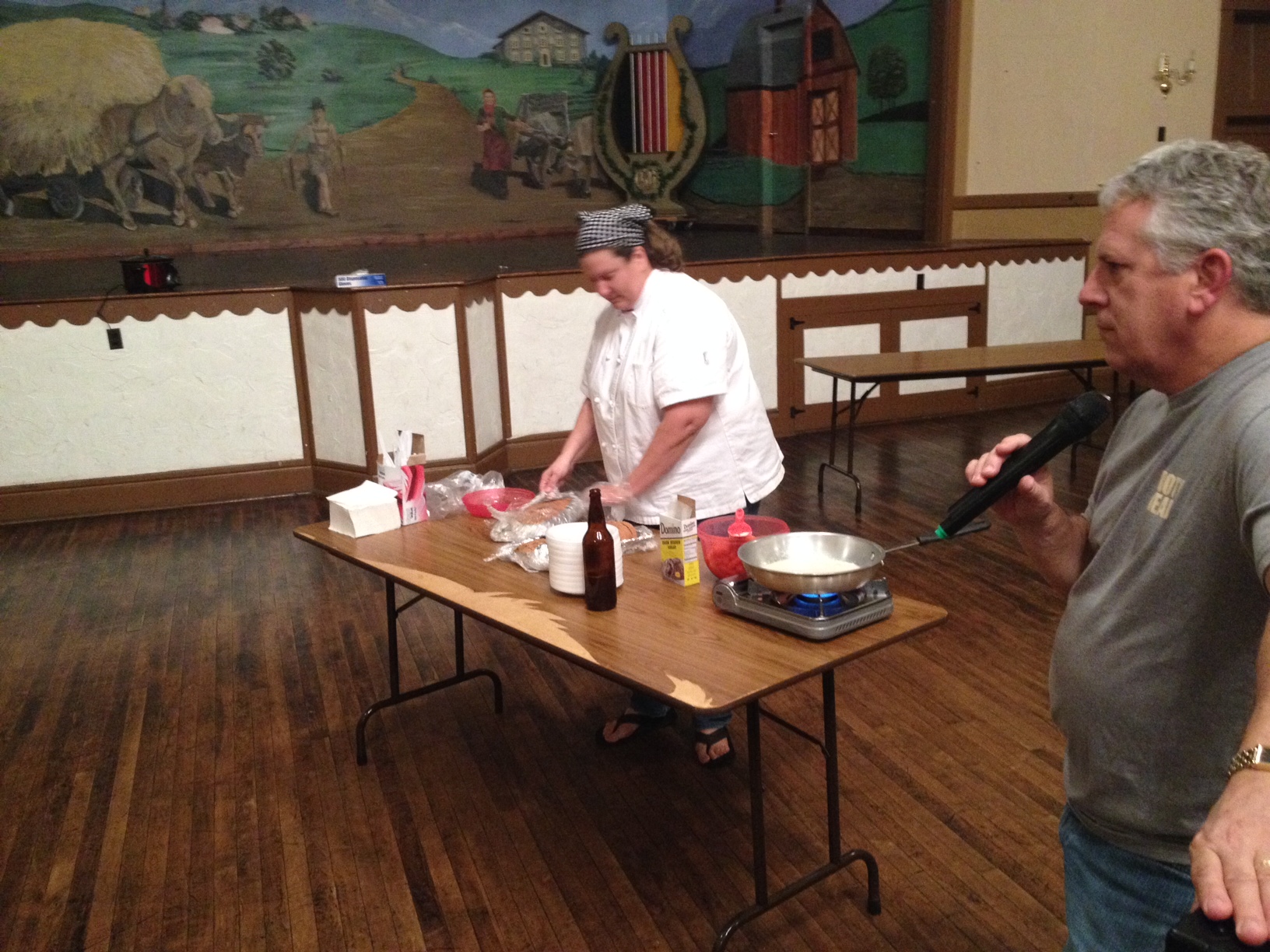 I seem to find myself always starting these posts with "If missed the meeting you missed a good one." but I have to say the Oct Cooking with Beer meeting was awesome. Amiee Blume, Courier Food Editor, showed up to the meeting with both barrels loaded. She prepared a pulled pork dish and some rye bread ahead of time and then cooked up some carrots during the presentation. All the dishes included some form of Carson's beer. 
This meeting was also a can drive for the St. Paul's Episcopal Church food pantry. Everyone did an excellent job remembering to bring a can as Sky's car was loaded down!
For those interested in reproducing the dishes that Amiee prepared we have post the recipes below.
Pulled Pork with Blackberry Beer-B-Q Sauce
Serves 15 – 20 as an entree
INGREDIENTS
20 pounds pork butt, in 5-6 pieces
½ cup mustard
1 cup mild chili powder
Sauce:
¼ cup fat drippings from smoked or roasted pork shoulder
½ cup chopped onion
¾ cup ketchup
1 quart or all de-fatted drippings from pork
1 tablespoon garlic powder
2 bottles Carson's Brown Cow Brown Ale
2 bottles Carson' Harlot Honey Blond
3 tablespoons Worcestershire sauce
½ small bottle Louisiana hot sauce (Franks, Crystal, Louisiana brand. Not Tabasco unless you want it really hot.)
9 ounces malt vinegar
1 ½ 12-ounce jars Smucker's seedless Blackberry jam
1# light brown sugar
2 tablespoons molasses
1 tablespoon applewood smoked salt
Additional smoked salt and black pepper to taste
DIRECTIONS
1. Rub the pork shoulder with the mustard and then sprinkle liberally on all sides with chili powder. Arrange on a rack over a baking pan, pour 1 cup water into the pan and bake for 4-5 hours in a preheated 375 degree oven. Occasionally add more water to keep drippings from burning. Alternatively, smoke the pork the way you like to smoke, using a drip pan to catch drippings.
2. Cool the pork and pull the meat. Toss fat scraps in a wide skillet and render, if you like. You can add these "cracklings" back to the pulled pork, and save the rendered lard to add flavor to Mexican or Cajun dishes later.
3. Remove the fat from the pork drippings. Heat ¼ cup of the fat in a large sauce pot and add the onion. Cook 10 – 15 minutes, or until the onion is soft and golden. Push the onion to one side and add the ketchup. Cook the ketchup, stirring occasionally, until it has caramelized and is dark reddish-brown and clumpy. Pour off all the oil you can.
4. Add the defatted drippings, beer, Worcestershire sauce, hot sauce, and vinegar and bring to a busy simmer. Cook for 1 hour, stirring occasionally, or until sauce has reduced a bit. Add the blackberry jam, brown sugar, molasses, salt and pepper to taste. Cook another 30 minutes to reduce and blend flavors. Taste again for salt.
5. Pour sauce over pulled pork and reheat. If you rendered the fat into cracklings, chop them finely and add to the pork and sauce.
6. Feel free to play with the flavors of this sauce. This is a dark sauce. For a lighter version, use all light beer, leave out the molasses, and change the blackberry preserves to apple, apricot or strawberry.


Honey Blond Rye Bread
(Modified from a rye bread recipe from Martha Stewart)
Makes 2 loaves
INGREDIENTS
1 tablespoon plus 1 1/2 teaspoons active dry yeast (two 1/4-ounce envelopes)
2 1/4 cups warm Carson's Honey Blond beer (110 degrees)
3 tablespoons plus 2 teaspoons honey
4 tablespoons unsalted butter, melted, plus more for bowl, pans, and brushing
2 1/2 cups rye flour
4 1/2 cups bread flour, plus more for surface and dusting
1 cup spent pale malt
2 teaspoons salt
2 tablespoons caraway seeds
1 egg white
DIRECTIONS
1. Sprinkle yeast over 1/2 cup beer. Add 2 teaspoons honey. Whisk until yeast dissolves. Let stand until foamy, about 5 minutes. Transfer to the bowl of a mixer fitted with the paddle or dough-hook attachment. Add butter and remaining 1 3/4 cups beerr and 3 tablespoons honey.
2. Whisk flour with salt; add 3 cups to yeast. Mix on low speed until smooth. Mix in 2 tablespoons caraway seeds. Add remaining 4 cups flour, 1 cup at a time, mixing until dough comes away from sides of bowl and forms a ragged, slightly sticky ball. Add spent grain and mix until incorporated. Butter a large bowl.
3. Knead dough on a floured surface until smooth and elastic but still slightly tacky, about 5 minutes. Shape into a ball. Transfer to prepared bowl; cover with plastic wrap.
4. Let dough stand in a warm place until it doubles in volume (it should not spring back when pressed), about 1 hour. Butter two 4 1/2-by-8 1/2-inch loaf pans. Punch down dough; divide in half.
5. Shape 1 dough half into an 8 1/2-inch-long rectangle (about 1/2 inch thick). Fold long sides of dough in to middle, overlapping slightly. Press seam to seal. Transfer dough, seam side down, to pan. Repeat with remaining dough. Brush tops of loaves with egg wash (beaten egg white mixed with water), not butter, and sprinkle with caraway seeds. Preheat oven to 450 degrees. Drape loaves with plastic. Let stand until dough rises about 1 inch above tops of pans, 45 minutes to 1 hour. Reduce oven temperature to 400 degrees. Bake, rotating pans after 20 minutes, until tops are golden brown, about 45 minutes. Transfer to wire racks. Let cool slightly; turn out loaves. Let cool completely before slicing.

Red Dawn Glazed Carrots
Serves 4
INGREDIENTS
1 pound baby carrots
Salt to taste
3 tablespoons butter
½ cup Carson's Red Dawn Red Ale
¼ cup dark brown sugar
DIRECTIONS
1. Heat a large pot of water to a boil and add salt. Blanch carrots until just tender. Drain and rinse under cold running water to stop the cooking.
2. In a wide skillet, add the butter and melt. Add the carrots and cook until beginning to caramelize. Add the red dawn and cook 5 minutes to reduce. Add the sugar and continue to boil until the sauce is thick and clingy.