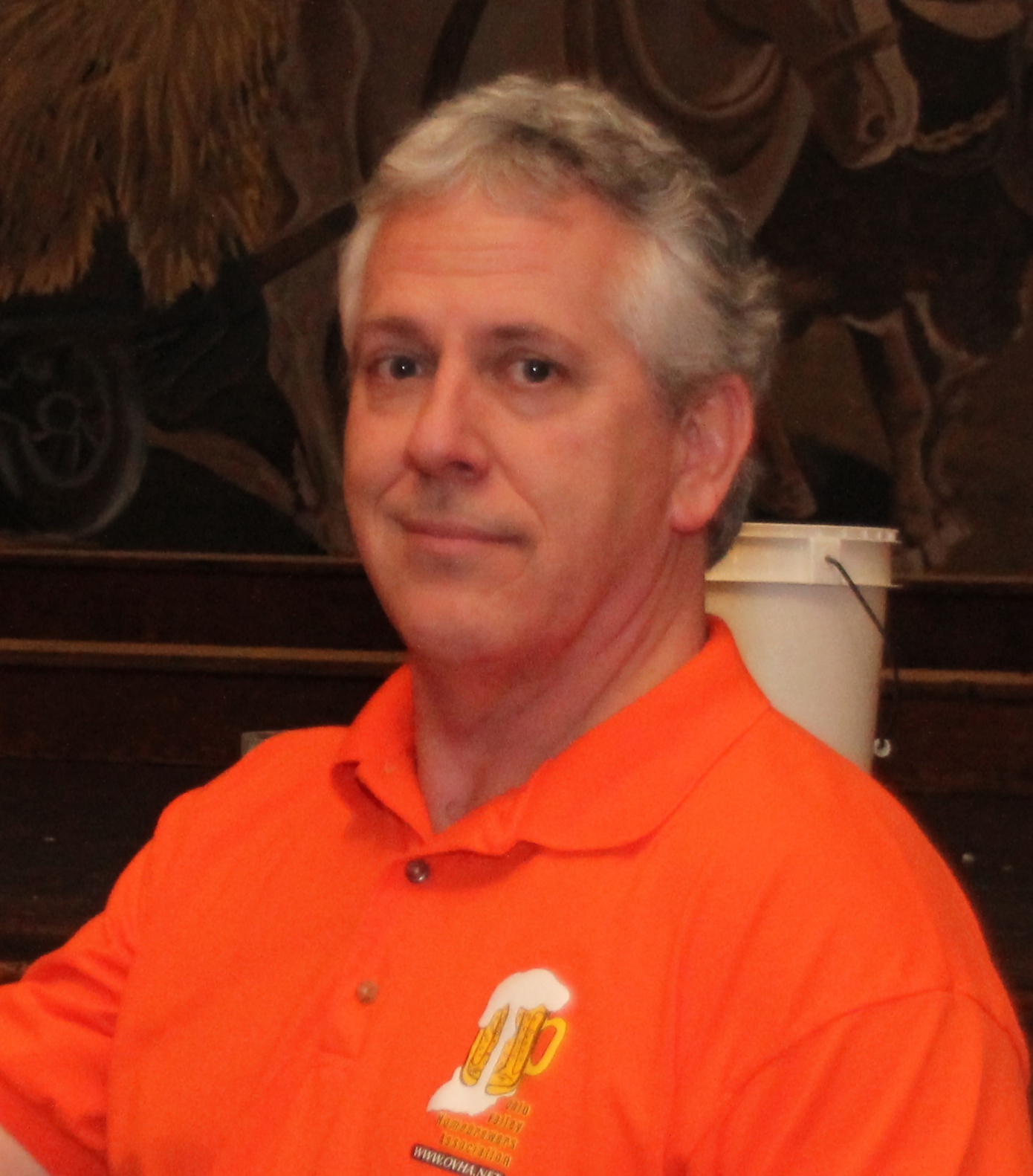 Fellow Homebrewers,
It's hard to believe that another year is almost behind us. Let's take a quick look back at 2014.
We had several guests presenters in 2014. We started the year with a beer and chocolate pairing from a certified cicerone. I believe we set a record for the number of significant others in attendance. At the March meeting Caleb Staton, head brewer at Bloomington's Upland Brewing, led the club in a sampling of Upland's 2014 sour beer release. In October Aimee Blume brought her considerable culinary talents to the OVHA. We enjoyed some incredible fare prepared with beers from Carson's Brewery.
With an eye on a future open homebrew competition, we placed an emphasis on beer judging in 2014 by conducting quarterly calibration tastings. Michael Julian was the first guinea pig having his Vienna Lager compared to a commercial version of the style. Kenny Purcell followed three months later with his hoppy American Wheat pitted against Carson's Eville Wheat. Yours truly then put forth a rather pedestrian Scottish Ale, the style for this year's Big Turkey Competition. Finally, Cesar Gonzalez, a past Indiana Brewers Cup blue ribbon winner, presented his Munich Dunkel. Thanks so much to those willing to subject their creations to public scrutiny.
Members gathered three times in 2014 to brew publicly. In early March, members met at Carson's for the 2014 barrel brew day and produced 110 gallons of wort. Ultimately, half of the Foreign Extra Stout went into a Four Roses bourbon barrel donated by Liquor Locker. The first Saturday in May saw about a dozen brewers celebrating Big Brew in the parking lot of Tin Man. Six months later three hardy souls and several interested observers braved less than ideal conditions at the Morgan Avenue Liquor Locker for Learn to Homebrew Day.
As always, the OVHA was instrumental in the success of several beer festivals benefiting local not-for-profits. Zoo Brew kicked of the season in June as the OVHA, with around 25 beverages on tap, took its customary spot by the Mesker Zoo entrance.   Bosse Field next welcomed the club for the long-standing SWIRCA brew festival. This was followed by the Evansville Museum's Brew Ha Ha and Wesselman Wood's Wandering Owl. The festival season concluded last month with Holy Redeemer's Tap and Cork. Thanks to those who selflessly contributed your time and beer to these worthy events.
Several OVHA members competed in the AHA's National Homebrew Competition with Chris Norrick's Flanders Red and the Gonzalez' cider advancing to the final round. The finals were judged during the National Homebrewers Conference in Grand Rapids, Michigan.   The club was well-represented at this year's conference as I was joined by Amelia, Cesar, Chris, and last year's OVHA president, Don Heisler. Aside from one rookie mistake, a great time was had by all attendees.
As it does every year, an army of orange shirts descended on he 2014 Indiana Brewers Cup with many OVHA members volunteering to steward and judge.   With his Belgian Golden Strong, Jeremy Dunn brought home the top prize in his category. Carson's and Tin Man also took home a fair share of hardware. Clearly, the future of Evansville brewing, both on the amateur and professional levels, is in good hands.
As you can see, 2014 was a very busy year. We added 29 new members and we currently have more than 120 members in good standing making the OVHA one of the most prominent homebrewing clubs in Indiana. All of this could not have been possible without the tireless efforts and sacrifices of your OVHA officers and directors. When you get a chance, please give a pat on the back to Sky, Chris, Jack, Jill, Michael J., Kenny, Dutch, and Dwayne.
Thanks to all for making my tenure as OVHA president a memorable one. Now, bring on the year of the Sky!
Just Brew It!
Jeff